Videos: Angel Rebelde
Let's revisit the glory days of the telenovela
Angel Rebelde
by posting some video clips of that show! To view these clips, you'll need Windows Media Player, and you will need to have the
latest DivX codec
installed.
1)
Victor Noriega, Gardener
(3.85 MB, zipped)
2)
Victor Noriega, Swimmer
(5.94 MB, zipped)
3)
Carlos Augusto Maldonado in a towel
(4.81 MB, zipped)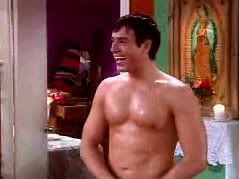 Our previous videos are still available for download.
Rapidshare instructions:
Clicking on the video links will take you to a page containing info on Rapidshare. Scroll down and click "FREE". In the new page that opens, scroll down, and you'll see a number counting down to zero. After it reaches zero, the link to download the video will appear. Right-click and save. In Portuguese: Se ao clicar no link do vídeo uma nova página abrir com informações do rapidshare, baixe a página e clique em "FREE". Uma nova página abrirá mostrando o link do vídeo, daí é só salvar o vídeo (não esqueça de esperar a contagem regressiva para este link abrir).
10 Previous Posts